DVD market 2019

>> The DVD market blog (in French)

With the largest collection of heritage DVDs in France, this year's DVD Market of the Lumière festival boasts more than 4,500 film references! It's a great opportunity to find rarities, to share or rediscover great cinema classics.

Located in the heart of the cinema Village, the DVD market will open its doors on Friday, October 11th at 7 pm and remain open from 10:30 am to 9 pm (non-stop) for the duration of the festival.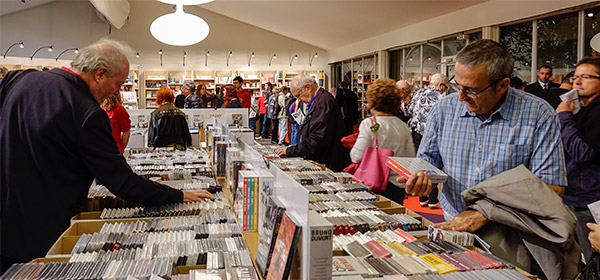 © Institut Lumière / Photo Sandrine Thesillat - Jean-Luc Mège Photographies


Come discover the section honoring Francis Ford Coppola, recipient of the 11th Lumière Award! You can check out his filmography, his family's filmography (Sofia Coppola, Nicolas Cage...), movies by his contemporaries of new Hollywood and heirs to American independent cinema.
You will also find highlights of the program, from André Cayatte to Marco Bellocchio, to the works featuring our guests and personalities honored by 11th edition: Frances McDormand, Bong Joon-ho, Daniel Auteuil, Lina Wertmüller, Donald Sutherland, Marina Vlady, Gael García Bernal. The scandalous movies of Forbidden Hollywood, the new Lumière Classics section and sublime moments of silent film will also be showcased!
This year, a special area will be dedicated to DVD and Blu-Ray box sets, shining a spotlight on the increasingly creative work of video publishers. Special collections focusing on major actors, directors, cinema masterpieces or gorgeous collector editions await you.
Whether you're a newbie or a savvy cinephile, the boutique has something to satisfy everyone's tastes! Divided into over twenty categories, seven new themes have been added for this edition: Biopics, The Finest early films, Road Movies, Sports and cinema, Arts and cinema, Music and cinema, Politics and cinema!
Like every year, a section of the shop will be dedicated to more than 150 titles highly recommended by Bertrand Tavernier, including many works alluded to in his film, "My Journey through French Cinema," and his selection of westerns and essential new releases!

The DVD Market also features exclusive titles, special events, guests and happenings to read about on the Blog (in French) and to follow on the festival's social media! Finally, a friendly and passionate team will be happy to inform and advise you.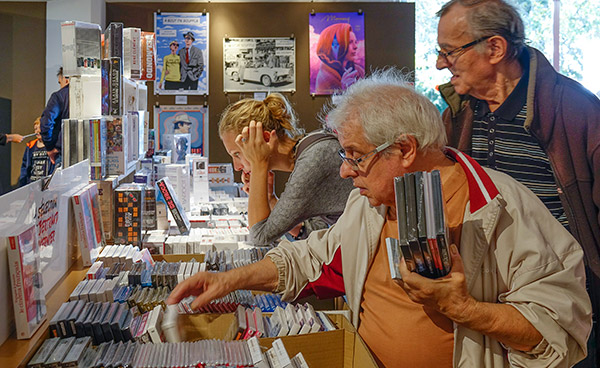 © Institut Lumière / Photo Sandrine Thesillat - Jean-Luc Mège Photographies
Opening hours:
DVD Market of the Cinema Village
Opens on Friday, October 11th from 7 pm to 10:30 pm
From Saturday the 12th to Sunday the 20th of October, from 10:30 am to 9 pm
DVD Market Categories:
The filmography of Francis Ford Coppola, his inspirations and contemporaries, his family, plus a section dedicated to the heirs of independent American cinema - NEW
The "Program" section that brings together films from the 2019 festival line-up, and works featuring guests and personalities celebrated during this 11th edition (Frances McDormand, Marco Bellocchio, Daniel Auteuil, Bong Joon-ho, Lina Wertmüller, Gael García Bernal, the Forbidden Hollywood movies, Big black & white classics, the Lumière Classics…) - NEW
Box sets - NEW
Bertrand Tavernier's selection based on "My Journey Through French Cinema" –

NEW

The Finest early films – NEW
Biopics – NEW
Road movies – NEW
Sports and cinema – NEW
Music and cinema – NEW
Arts and cinema – NEW
Politics and cinema – NEW
Blu-Rays
New releases
Major classics
Drama
Dramatic comedy
Comedy
Westerns
Thrillers – Crime/detective movies – Film Noir
Action – Adventure – War
Science-Fiction – Fantastic – Horror
Documentaries and Experimental Cinema
Youth films
Animated films
Eastern European cinema
Asian cinema
World cinema


© Institut Lumière / Sandrine Thesillat - Jean-Luc Mège photographies


© Institut Lumière / Photo Loic Benoit




The DVD market is made possible thanks to a collaboration with